Get the best tips and tricks from our greatest Wands Champion, Micaël Audet.
At the beginning of this season, we shared the history and usage of 5 of our spells, including the Devil's Split. Getting closer to the end of this season, we wanted to share tips and tricks on how to battle. What better way to get these insights from our Wands Champion in many Wands events, Micaël Audet.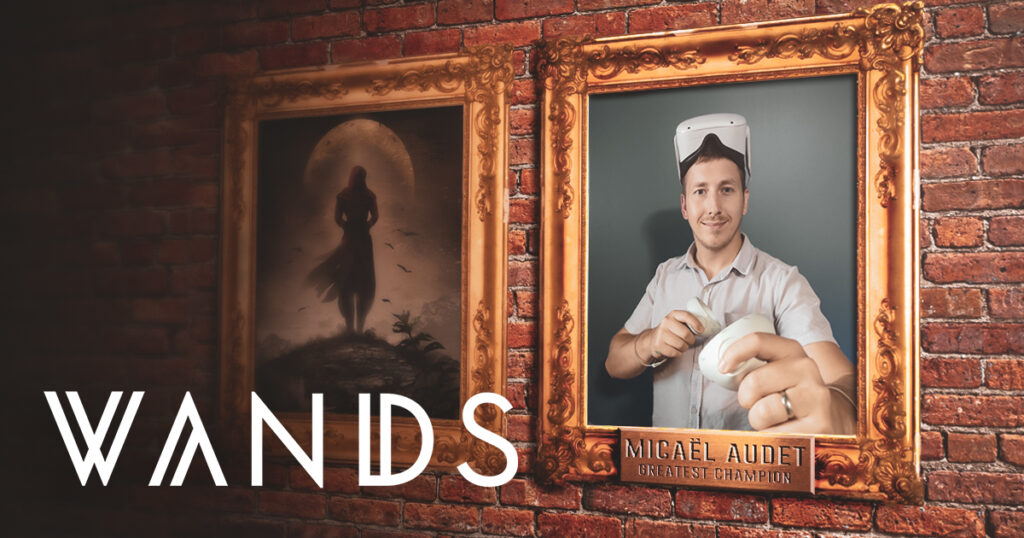 Micaël Audet is from the province of Quebec in Canada and has been playing Wands since 2019. Despite being a Wands Champion, he is also a full-time paramedic and real estate investor.
Want to learn how to use wands and successfully battle in magic duels? Read Micael's interview below!
How long have you been playing Wands?
I've been playing Wands for the first time on my birthday on January 13th 2019 on the Oculus Go
What was your first impression when you played Wands?
My first impression of the game was how great the community is. I realized that there are tons of stuff to learn and good thing I made friends on the first day I played and had a lot of people showing me how the game and the spells work. I've played several games in VR and Wands community is definitely THE BEST.
What are your favourite spells and character?
My favorite character is definitely the Assassin. I like how calm he looks on the picture frame and the color of his clothes is perfect for camouflage in Ortus Station and Sanctum of Sahir. I do not have a favorite spell since I like to play and getting better with all of them. Most of the spells I hated in the past, now I love them because I've learned how to master them. If there is one spell that I think must be the hardest to master and my favorite because of the amount of discipline and skills it takes to use: it would be Blood bolts.
What do you like the most about the game?
What I like the most about Wands is that it is a game of millions of possibilities that requires a lot of strategic thinking in a very short time. You have to analyze and react so quickly that it becomes almost a super instinct. It's the only game I've ever played in VR that made my heartbeat as fast with an incredible rush of adrenaline.
You have been the champion for so many events, would you like to share some tricks and tips for our players?
First Tip I would give anyone is … Watch my youtube videos 🙂 I've put so much knowledge there for anyone to become a Champion! But here are some quick tips I can give you :
1. Avoid getting hit
2. Always make sure you have more Mana than your opponent
3. Learn how to grab the pickups while dodging projectiles or while shielding.
4. And my #1 advice is: USE the snap turn button to make quick 180 degree turns. This will increase your speed in the game because you can teleport and turn at the same time so when you land on the tile you are already facing in the direction you want to face without moving your feet.
You have also created great content on your YouTube channel, would you like to share with us your favourite video about Wands?
Here is one of my favorite videos I've made because of the slow-motion and the explanations I give that helps new players to understand how deep the game can be. The cool thing is the last part of the video when I replay the match without the slow-motion and then you realize how fast the game really is.
https://youtu.be/ZC7lzf57FK
Would you like to share anything else with the payers?
Here is a Portrait of the Assassin I received after winning Season 20.
Are you ready? Equip your wand with a wide variety of spells and battle other wielders for fame, power and glory in the realms of The Beyond. See you there!