Through exceptional dedication towards the Wands community and reaching the #1 spot on the global leaderboard in record time, Crystal Commander has rightfully earned his spot as this months Player Of The Month. Enjoy this interview talking about his goals, thoughts on Wands and tips & tricks.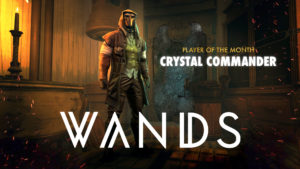 Hi Crystal Commander! Congratulations on being nominated the Wands, Player Of The Month and also not to forget you're currently holding the #1 rank on the global leaderboard – well done! How's it going?
It is going pretty good! And thank you!!  I'm a little antsy; just trying to hold onto my rank is difficult.
How did you initially find out about Wands? What drew you to the game?
It was recommended to me by Steam since it was sort of similar to other games I had. I was not expecting for it to be as amazing as it is! What caused me to try it out was the introductory trailer. While watching it, I could hardly tell the difference between the cinematics and actual gameplay. I even had a hard time convincing some of my friends that it wasn't all staged. What keeps you coming back to the game?
Currently? I am trying to maintain the #1 spot!  It has been really, really tough. Everyone is very skilled so it is very time-consuming to collect points. So far, I have only had the game twenty-three days and I have over ninety hours played in total.  Not to mention there are a lot of cosmetics I want in my collection; Weyman's Doctor outfit, the Scepter wand, and the Lion wand just to name a few. Wands is always coming out with new updates so I plan to be around to see all of it. I really want this game to prosper.
What hardware do you use (Rift, Gear VR, Daydream or Pico) (gamepad, remote, touchpad, or Oculus Touch controllers)
I cast my spells through the HTC Vive.  It is a lot easier to play when you can physically dodge spells and save your mana. Peeking around corners and over ledges makes the combat feel all too real. While the gamepad gives users the ability to cast three spells in .3 seconds by pushing buttons, Vive users have to swipe to their spells. I'd like to thing I am a pretty swift selector, but sometimes it fails to switch the spell and I get hit with something dangerous.
What tips and tricks have you developed or learned from other players?
The skilled players in the top ten told and taught me how to predict where your opponent will go next. If you know where they will move, you can be ready to defend or set a few traps. I also have a little notebook and each notable person I duel has a little section describing usual loadouts and styles of gameplay. Every time I see them again, I refer back to their page so I can be ready for what's coming next. However, my favorite trick is by far mana counting. The ability to know exactly how much mana your opponent has at any given time is very valuable. For example, if you have a chaos leaper, you know that they can teleport five times before running out of mana; give or take whatever other spells they use along the way. Once they are running empty, you can unleash a volley of high cost spells since they can't move.
I've seen you pretty engaged with the chat on Discord. How do you feel about Wands' community?
It is one of the best communities I have been a part of. When I first started, all of the previous season champions wanted to duel and "test" me after everyone commented on my play-style in the Discord channel. Playing Occy, Carl4D, And Dr. Jekyll_Mr. Hyde back to back, three matches each, was very tiring for a new player. Since then, I have gotten advice and tips from everyone; even a couple of challenges! Now my goal is to return all of the help I have received by answering all the questions that I can, and lending everyone a helping hand. Which is why I am online in Discord for around fourteen hours a day! If someone asks question, I respond with a checkmark and message them privately to take care of it. If I can't answer something due to not being on the same system, or I have just run out of ideas, I call in one of the moderators. When they come in, all of the informative questions have already been asked; and the person can get the help they need as fast as possible.
What's the most important thing you've learned in order to become #1?
Adaptability. Being able to analyse, respond, and counter in a matter of milliseconds is extremely important. However, when two highly skilled players both have this skill, it leads to staring contests while standing mere feet apart. For each player knows that whatever happens next determines the following three moves. Also, knowing your limits. Way too many times have I earned ten or so points from someone after five or six duels, only for them to win one and take thirty from me. There goes all of the progress I made, and then some.
How would you like to see Wands evolve in the future? What would your priorities be?
I definitely love to see some new spells in play! Just one spell can make countless new loadouts. That is what I would work on first! After bug fixes and patches of course. Some more customisation options/categories would also be nice; like a little familiar floating over your shoulder. It would not have any effect on the duels, as it would be just a cosmetic thing. A new map would also be fantastic to see in the works!! Each one is so carefully detailed, it makes me excited to see what else there is in the beyond!
We'd from the entire Cortopia & Wands team like to thank Crystal Commander for participating in this segment! See you in game!